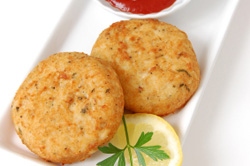 This recipe makes approximately 6-8 cakes. If you live on your own make the whole batch and freeze the leftovers in meal sized portions.

Ingredients
185 g tinned salmon or leftover cooked fish
2 cups cold mashed potatoes
1 small onion, finely chopped
1 T fresh parsley, chopped
Salt and pepper to taste
¼ cup flour
1 egg
1 T water
1 ½ cups polenta* or breadcrumbs
2 t oil
*Polenta, also known as cornmeal, can be purchased from most supermarkets or Binn Inn.
Method
Drain tinned fish and flake.
Place in bowl with potato, onion, parsley, salt and pepper.
Mix well to combine.
Shape the mixture into small balls and gently roll in flour. Flatten into rounds.
Lightly beat egg and water together.
Dip each fish cake in egg mixture.
Pour the polenta/breadcrumbs onto a plate and roll each fish cake to coat.
Lightly oil and heat fry pan.
Add fish cakes and cook until golden on both sides.
Serving Suggestion: Garnish with lemon wedges and serve with fresh bread and green vegetables or a green salad.