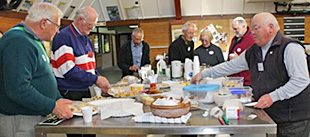 Our first edition of Table Talk for 2014 is now out - Issue 14- March 2014.
Read about the importance of fibre and how to add more fibre to your diet. Try the recipes for Autumn Apple Sauce on Pork Steaks and how to make a Scone Base.
French Toast - French toast provides protein from the egg and milk and can be enjoyed with a portion of fruit too. A delicious, nutritious way to start the day.