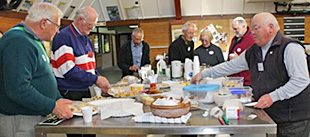 The spring edition of Table Talk for 2014 is now out - Issue 16 - September 2014.
Try the Roast Vegetable Salad recipe and learn tips on how to start a vegetable garden at home.
Rice Paper Rolls - This Vietnamese dish is full of fresh vegetables and a great way to add variety to what you eat. Rice paper rounds can be purchased from the international section of your supermarket or at Asian supermarkets.