> Links
Table Talk Newsletters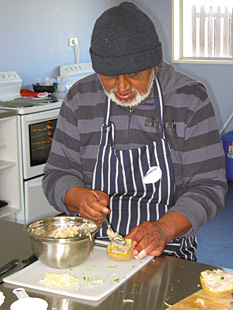 Table Talk is a seasonal newsletter for Senior Chefs. It is published quarterly and provides recipes, cooking tips, nutrition information, book reviews and information about upcoming events and resources.
Hot tips for sleeping well, plant-based eating and keeping well during winter
Recipes for chickpea and vegetable curry, vegetarian pasta and using legumes
Info on Be Active and fire safety
Hot tips keeping warm as the temperature drops, flu vaccinations, eggs and health
Recipes for carrot and red lentil soup, Spanish eggs and sandwich ideas
Info on our Autumn celebration, Be Active, Walk for Dementia and day light saving
Hot tips on keeping Christmas simple and healthy fats
Recipes for individual berry trifles, salmon & lemon dip and salmon cakes
Info on our Christmas celebration and Sport Canterbury programmes
Hot tips on preventing food waste and recycling
Recipes for asparagus, beetroot salad and self-crusting quiche
Info on Elder Care Canterbury Consumer Group and WeVisit mentoring programme
Hot tips on kidney health and winter recipe ideas
Recipe for leek and potato soup and rhubarb muffins
Info on medical management service and falls prevention
Hot tips on antioxidants and how to maximise them in your diet
Recipe for creamy chicken pasta and delicious baked apple
Info on nutrition and depression
Hot tips on staying strong through nutrition and activity
Recipe for Festive Ambrosia and Fish in a Bag
Info on the nutritional benefits of fish
Hot tips on gardening on a budget
Recipe for Christmas Fruit Mince, Bliss Balls, Dog Treats
Info on healthy BBQ options
Nutrition articles
> Is Coconut oil good for you?
> Why do you need to know about Vitamin B12?
> Which is better - butter or margarine?
> Can you eat eggs if you have a high cholesterol level?
> Does cheese cause constipation?
> Are frozen vegetables just as nutritious as fresh vegetables?
> Should you drink 8 cups of water a day?
> How to get more calcium in your diet
> How to get your taste buds talking
> Good fat - the facts about Omega 3s
> Vitamin D - the sunshine vitamin
> Wishing you a happy and healthy Christmas
> Making the most of Christmas - menu for one or two
Links
New Zealand Nutrition Foundation
www.nutritionfoundation.org.nz/nutrition-facts
Provides a balanced viewpoint on important nutrition issues around nutrition and health. Has an excellent section on healthy eating for older adults.
My Family Food
This website is about making it easier to cook food that is good for you. The meal ideas are tasty, fast, easy and low-cost, and there are tips for helping the food budget go further.
Appetite for Life
Appetite for Life is a Canterbury based 6 week weight management and healthy lifestyle programme that has been designed specifically for people who are fed up with the dieting process and just want to have a normal relationship with food.
Appetite for Life is not a diet. It promotes lifestyle changes that help you lose weight slowly, maintain weight loss and feel good about yourself throughout the process.
Age Concern Canterbury
Trusted information, support and advocacy, to enable older people in Canterbury to have real choices.
Canterbury HealthInfo
Healthy eating for older people brochures and important information recommended by Canterbury health professionals to help manage your own health.
Active Canterbury
Whether you're starting out new to exercise or are already active, this website gives you tips about exercise and lets you search for activity groups in your area.
BE ACTIVE is suitable for people new or returning to activity, and want to have fun along the way. It is suitable for all ages (16 years and over) and levels of ability. The cost is $3 a session.
Participation in BE ACTIVE assists individuals improve their activity levels and health. In addition through the engagement with others, the programmes support an increase in community cohesion and wellbeing.
Courses feature different activities each week, with an emphasis on fun and 'having a go.'
All sessions are a mixture of activity and education, with speakers on subjects such as wellbeing, motivation and nutrition.