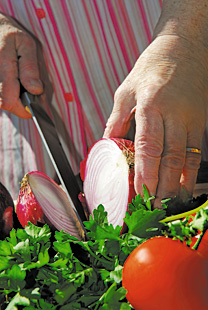 This section provides recipes that are suitable for older people who are cooking for one or two people. The recipes use readily available ingredients and are quick and easy to prepare as well as being nutritious and delicious!
In most instances the recipes are for one or two serves. The exception is for soups and casseroles where it makes sense to make a larger quantity (four or more serves) and freeze the leftovers in meal sized portions.
Christmas Day menu for one or two: This year you may be spending Christmas by yourself or with one other. Give yourself the gift of a lovely meal. Christmas is a day you can take your time to prepare and enjoy your menu; click here to see ideas.
Recipes are grouped under the following categories: