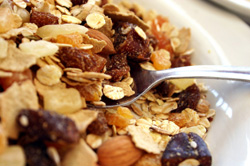 This muesli tastes great and has just the right amount of crunch. Ingredients can easily be substituted, for example if you don't have almonds replace with peanuts or any other nuts you have in your pantry.
(Makes 10 ½ cup serves)
Ingredients
5 cups wholegrain oats
1/4 cup pumpkin seeds
1/4 cup sunflower seeds
1/4 cup slivered almonds
1 teaspoon cinnamon or vanilla essence
1/2 cup boiling water
3 tablespoons brown sugar
Method
Pre-heat the oven to150ºC.
Mix together the first five ingredients in a large shallow baking pan.
In a small jug, mix together the boiling water and brown sugar..
Pour the hot liquid over the dry mixture and stir to mix.
Bake for at least 60 minutes or until lightly browned. Stir every 10-15 minutes.
Remove from the oven and cool.
Store in an airtight container.
Serving Suggestion: serve with fresh or stewed fruit and yoghurt or milk.