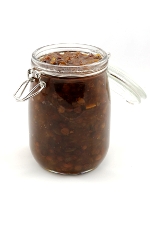 Homemade chutney is simple to make and often tastes nicer than bought varieties. Try this simple recipe made with apples and dried fruits.

Ingredients
3 large apples
2 large onions
8 cloves garlic
1 cup chopped dates
1 cup raisins
1 cup stoned, chopped prunes
⅔ cup chopped crystallised ginger
2 t salt
1 t curry powder
¼ t ground pepper
2 cups white sugar
4 cups white vinegar
Method
Peel apples and cut into chunks. Peel onions and garlic and slice finely. Combine all ingredients into a large deep saucepan.
Bring to the boil stirring to dissolve sugar.
Reduce heat and simmer gently for 40 minutes until fruit is soft and mixture is thick. Stir often to prevent sticking.
Add extra vinegar if it gets too thick.
Spoon into sterilised jars and cover immediately with lids or cellophane covers.
Sterilising bottles and jars
Sterilise bottles and jars by placing them in an oven heated to 120°C, for about 15 minutes. Lids/seals can be sterilised by placing them in a pan of boiling water. These can be left simmering until required. Pour contents into the bottles/jars while still hot and screw on the lids.