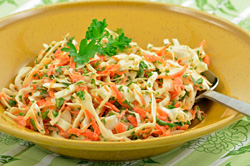 Coleslaw is often thought of as a winter stand-by when salad greens are in short supply but it can be served anytime of the year. Try this easy classic coleslaw. It's taste great and will add plenty of colour to your meal.

Coleslaw
Choose white or red cabbage, finely sliced, and at least three of the following ingredients.
- grated carrot
- pineapple pieces
- apple, chopped or grated (sprinkle with lemon juice to stop apple going brown)
- celery, chopped
- red or green pepper, chopped
- parsley, chopped
- kiwi fruit, peeled and chopped
- raisins or sultanas
Method
Wash the cabbage.
Place prepared ingredients in a bowl.
Add mayonnaise and mix together until coleslaw is coated well.
Use a pre-made mayonnaise or dressing from the supermarket. Alternatively, make your own salad dressing using the recipe below.
Salad Dressing
| | |
| --- | --- |
| Ingredients | Makes ¼ - ¾ cup |
| Light cream cheese or sour cream | 3 T |
| Grainy mustard | 2 t |
| Plain yoghurt | ½ cup |
| Lemon juice | 1 t |
Method
Beat all ingredients together until smooth.
Store unused dressing in the refrigerator.
Recipe from Easy Recipes for One or Two