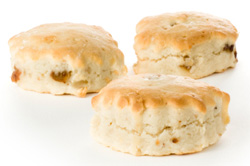 Scones are quick and easy to make. They are best eaten on the day they are made but leftovers can be frozen or try them split in half and toasted for breakfast. (Makes 9 -12 scones).

Ingredients
3 cups plain flour
6 t baking powder
2 T sugar
50 g margarine
1 – 1 ¼ cups milk
Method
Pre-heat the oven to 200ºC .
Place flour, baking powder, and sugar in a large bowl.
Rub in the margarine until the mixture resembles fine crumbs. Add the flavour option if using or leave out for plain scones.
Add the milk to form a dough that isn't wet but should be soft enough to shape without crumbling. Add more or less milk if needed.
Turn onto a floured board and roll out to a 2cm thickness. Cut into 9-12 squares or rounds.
Place on the oven tray and bake for 12-15 minutes until cooked.