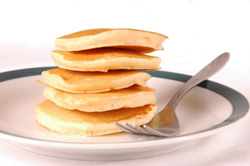 A popular afternoon tea treat, the Pikelet is best described as a mini, unsweetened pancake. It is usually served with jam but whipped cream can be added for special occasions.

Ingredients
1 egg
¼ cup sugar
¾ cup milk
1 cup flour
1 t baking powder
¼ t salt
25 g melted margarine
Oil or margarine to grease the pan
Method
In a large bowl beat egg and sugar together until thick and pale.
Add the dry ingredients alternating with the milk, adding a little more milk if needed to form a smooth, thick batter.
Lastly add the melted margarine and mix until smooth.
Heat a non-stick frying pan over a medium heat. Grease the pan lightly with a little margarine or oil.
Cook tablespoons of batter in batches, for about 2 minutes or until bubbles appear on the surface of each pikelet. Turn pikelets over to lightly brown the other side.
Remove cooked pikelets to a cake rack to cool. Repeat the process with the remaining mixture.