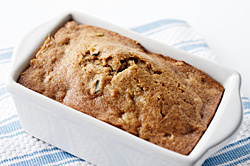 Delicious, moist and easy to make.

Ingredients
1 x 410g can apricots in juice
1 cup dried apricots, chopped
1 cup sugar
2 T margarine or butter
1 t baking soda
1 cup wholemeal flour
1 cup plain flour
1 t baking powder
Method
Preheat the oven to 180º C.
Lightly grease a 22cm loaf tin with a pastry brush and oil or oil spray.
Puree canned apricots and juice together using a stick blender or a food processor.
Place the first four ingredients in a large saucepan and bring to the boil.
Leave to cool and then add the baking soda.
Add the flours and baking powder to the apricot mixture and mix until just combined.
Pour mixture into the loaf tin and bake for 1 hour or until a skewer inserted in the middle of the loaf comes out clean.
Leave in tin for 10 minutes before turning out.