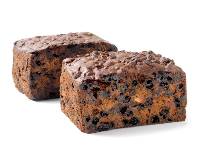 This Christmas cake is quick and easy to make and tastes great!

Ingredients
1 cup margarine
1 cup hot water
1 Tbsp white vinegar
2 tsp cinnamon
1 tsp mixed spice
5 cups mixed dried fruit* (or 1 kg packet)
1 can sweetened condensed milk
1 tsp baking soda
¼ cup sherry or orange juice
1 tsp vanilla
2 ¼ cups flour
3 tsp baking powder
½ cup chopped walnuts or almonds (optional)
¼ cup whole blanched almonds
Brandy (optional)
*Use a mix of your favourite dried fruits: sultanas, apricots, currants, cranberries mixed peel glacé cherries, ginger, etc
Method
Place margarine, hot water, vinegar, cinnamon, mixed spice and dried fruit into large saucepan. Stirring regularly, bring to a boil.
Remove from heat, stir in condensed milk and baking soda. Cool to room temperature.
Line deep sided 20cm round cake tin with baking paper and preheat oven to 150ºC.
Add sherry and vanilla to cooled mixture. Add flour, baking powder, chopped nuts and stir.
Pour into prepared cake tin and decorate top with whole almonds.
Bake 2 - 2 ½ hrs or until done.
While still warm, apply brandy if desired. Using a pastry brush, brush the top with brandy or you can prick the top and drizzle with brandy (about 2 tablespoons).
Cool completely. Remove cake from tin. Wrap in baking paper and keep in a sealed container.
This cake will keep for a few months. You can re-apply brandy every so often if desired.
Recipe inspired by Julie Le Clerc's version