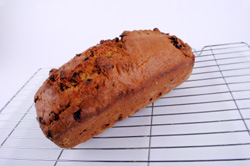 An easy loaf to make and freezes well.

Ingredients
1 cup dates, chopped
1 t baking soda
1 T golden syrup
1 cup sugar
1 t vanilla
50 g margarine or butter chopped into cubes
1 cup hot water
2 cups plain flour
1 t baking powder
½ cup walnuts, chopped (optional)
Method
Preheat the oven to 180º C and lightly grease a medium to large loaf tin.
Place the dates, baking soda, golden syrup, sugar, vanilla and margarine into a medium bowl.
Add the hot water and stir until the margarine is melted and the ingredients are well mixed.
Put the flour, baking powder and walnuts into a large bowl and stir to combine. Make a 'well' in the centre of the flour and pour the liquid ingredients into the 'well'; stir quickly with a spoon until well mixed and no flour can be seen.
Turn the mixture into the prepared loaf tin and bake for 50 - 60 minutes or until a cake tester inserted in the centre of the loaf comes out clean.