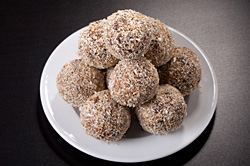 These sweet treats are tasty and high in fibre.
They make an ideal snack and are great to give as a gift.
(Makes about 20 balls)

Ingredients
1/4 cup almonds
1/2 cup coconut
1/3 cup dried apricots, finely chopped
1 cup dates, finely chopped
1 cup ready to eat pitted prunes, finely chopped
grated rind of 1 orange
2-3 T orange juice
extra coconut
Method
Place the almonds in the food processor and chop finely. Add the coconut and the grated rind.
Add the dried fruits, one at a time, and chop until fine.
Add orange juice and mix thoroughly.
Shape into small balls (large walnut size) and roll in coconut.
Store in the refrigerator.
* Prunes can be substituted with other dried fruit, eg. raisins, sultanas or figs