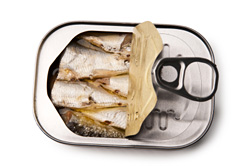 If you are fond of sardines you will love this quick easy recipe. Sardines not only taste great they are a good source of protein, Omega-3, vitamin D and calcium.

Ingredients
1 x 200g can sardines
1 egg
2 T milk
2 t Dijon mustard
1 t vinegar
1 T margarine, melted
Method
Combine all ingredients in a small saucepan and cook over a medium heat.
Remove as soon as the mixture curdles. Beat well.
Toast 4-6 slices of bread.
Divide the hot mixture among the toast, sprinkle with finely chopped parsley and serve.