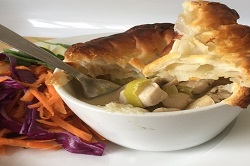 A much healthier take on a pie! This recipe can be prepared in advance and stored in the refrigerator until you are ready to cook your meal (within 36 hours). Ensure you have your ramekin or single pie dishes to cook your pies in!

Ingredients

1 Serve

2 Serves

Oil

1 t

1 T

Leek, sliced

½ (~100g)

1 (~200g)

Garlic glove, chopped

1 small

1 small

Button mushrooms

75g

150g

Boneless, skinless chicken breast or thigh

100g

200g

Thyme

½ t (dried) or 1 t (fresh)

1 t (dried) 2t (fresh)

White wine

1/8 cup

¼ cup

Cream

1/8 cup

¼ cup

Black pepper

pinch

pinch

Cornflour, dissolved in 1 T of cold water

1 t

2 t (in 2T water)

Pre rolled flaky pastry, thawed

1 sheet

1-2 sheets

For glaze: 1 egg plus 1 T water, lightly beaten
Method
Heat oil in a large, non-stick fry pan. Add leek and garlic and cook. Stir frequently until leek is soft.

Stir in the mushrooms and continue to cook until these have just softened, then add the chicken and cook over high heat, stirring, until the chicken has lost it's pink colour.

Add thyme, wine and cream and simmer on a medium heat for about 10-12 minutes or until chicken has cooked through. Season with pepper.

Stir through corn flour and water mixture.

Simmer, stirring for 2-3 minutes or until thickened. Remove from heat.

If cooking after preparation pre heat the oven to 200 °C.

Place pastry sheet (s) on a dry, lightly floured bench. Cut out round shapes about 1cm wider than your chosen ramekin / single pie dish. Cut remaining pastry strips into 1.5cm strips.

Fill your ramekins/ single pie dishes with pie filling.

Brush rims with water, then make a ring of the pastry strips around the top of each dish, pressing them down gentry.

Gentry cover the pastry strips with water then top with pastry rounds. Press gently to help stick.

Vent the centre of each pie with the point of a sharp knife a few times, and then brush the pie with the egg/water mixture.

To cook, place the pies in the oven and bake at 200 °C for 15-20 minutes or until tops are golden brown.
Serving Suggestion: Serve alone or with a salad or lightly cooked vegetables. Keep in ramekin to serve.
Variations:
- Use can apple cider vinegar, or a low salt chicken or vegetable stock rather than wine.
- You can use your favourite casserole for the filling instead.
Thanks to Simon and Alison Holst for the inspiration for this fantastic recipe which is from their book "Meals for 1 or 2"