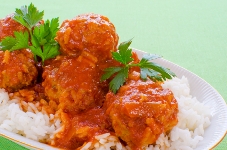 Pork mince is a tasty alternative to regular mince and also happens to be lean and cheap. This recipe can be made into meatballs, meat sticks, patties or meat loaf.

Mince Mixutre
| | |
| --- | --- |
| Ingredients | 2 Serves |
| Pork mince | 200 - 250 grams |
| Onion, small, finely chopped | ½ small onion |
| Soy Sauce | 2 t |
| Peanut Butter | 2 t |
| Garlic, minced | ½ t |
| Ginger, minced or powder | 2 t minced or ¼ t powder |
| Coriander leaves (optional), fresh or flakes | 2 T chopped or 1 t flakes |
| Sweet Chilli Sauce or Tomato sauce | 2 t |
| Rolled oats | 3 T |
| Egg | 1 small |
| Ground pepper | To taste |
Method
In a small bowl mix together all of the above ingredients. If the mixture is too wet and sloppy to be shaped into balls, add a little more oats.
Take a golf ball sized spoonful of the mixture and shape into a ball using the palms of your hands. Place the ball on a round dinner plate.
Repeat with the rest of the mixture (makes around 8 balls). Place all the balls in a circle on the outer edge of the dinner plate. They should not be touching.
Microwave the balls on the plate on HIGH for 3 – 4 minutes until almost cooked through.
Place the balls in pre-heated, oiled fry pan and cook over medium heat for a few minutes until browned on the outside and cooked through the middle. You will need to turn them often to brown the sides.
Alternatively bake the balls in the oven on a greased baking tray at 180ºC for approximately 20 minutes or until cooked through.
Sweet and Sour Vegetables
| | |
| --- | --- |
| Ingredients | 2 Serves |
| Oil | 1 T |
| Onion, chopped | 1 small |
| Vegetables*, chopped | 3 cups |
| Tinned Pineapple pieces in juice, reserve juice | 1 x 225g tin or ½ x 420g tin |
| Cornflour | 1 T |
| Garlic, minced | ½ t |
| Ginger, minced or powder | 2 t minced or ½ t powder |
| Soy Sauce | 2 t |
| Sugar | 1 T |
| Vinegar | 2 t |
| Tomato paste or sauce | 1 T |
* Use frozen vegetables or a mix of seasonal vegetables such as: carrot, mushroom, capsicum, shredded cabbage, etc.
Method
Heat oil in fry pan or wok over medium-high heat.
Add onion and stir fry for about 3 minutes until partially cooked.
Add vegetables and pineapple pieces without the juice (drain the juice into a separate small bowl) and stir fry for 3 – 5 minutes until almost cooked.
In a small bowl, mix the pineapple juice and cornflour until smooth. Add remaining ingredients to the bowl and mix.
Add the juice mixture to the vegetables. Heat until bubbling and thick and cook for another 2 -3 minutes, stirring constantly until sauce is smooth and clear.
Serving Suggestion: Serve the vegetables topped with pork balls and with rice.
Variations: Make the mince mixture and choose one of these options:
Make a double batch and freeze the extras to have later when you don't feel like cooking. Can be frozen from raw or cooked.
Serve as a snack or party food with a dipping sauce
Meat sticks: Mould a small handful of the mixture around kebab sticks. Follow the cooking instructions as per the recipe.
Patties: Shape the mince mixture into 2 large patties instead of balls. Pan fry until cooked through the middle and serve in a bun with salad fillings.
Meatloaf: Add a ½ of a grated carrot to the mince mixture and press it into muffin tins to make mini Asian meatloaves. Bake at 180ºC until cooked through the middle (about 20 min).