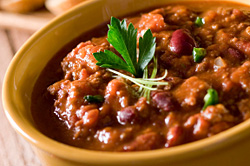 This tasty Mexican inspired dish is really very simple.
More or less chilli seasoning can be added to suit your personal taste.

Ingredients

1 Serve

2 Serves

Oil

2 t

1 T

Onion, peeled and finely chopped

½ small

1 small

Minced garlic

¼ t

½ t

Lean minced beef

125 g

250 g

Chilli powder or sweet chilli sauce

Pinch powder

or

1 T sauce

¼ t powder

or

2 T sauce

Baked beans

½ x 220 g can

1 x 220g can

Tomato paste

1 T

2 T

Water or red wine or beef stock

¼ cup

½ cup

Fresh vegetables, finely chopped* e.g beans, carrot, mushrooms, courgette

½ - 1 cup

1 – 2 cups
* Frozen vegetables can be substituted for fresh. Add frozen vegetables 5 minutes before serving.
Method
Heat oil in a saucepan and add onion and garlic. Cook for 2-3 minutes or until the onion is softened.
Add mince and continue cooking until mince is browned.
Add chilli powder or sauce, baked beans, tomato paste and water or red wine or beef stock. Cook over a gentle heat for 10 minutes.
Add vegetables and extra water if necessary and cook a further 10-20 minutes.
Check seasoning and adjust to taste.
Serving Suggestion: serve with cooked rice or mashed potato.
Recipe from Cooking for Older People – Easy Recipes for One or Two,
Canterbury District Health Board.