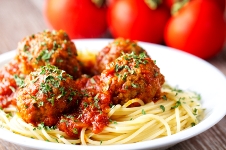 Premium mince is lean, cheap, easy to chew, simple to cook with and very versatile. This recipe can be made into meatballs, meat sticks, patties or meatloaf.

| | |
| --- | --- |
| Ingredients | 2 Serves |
| Premium mince | 200 grams |
| Rolled oats or breadcrumbs | 3 T |
| Garlic, minced | ½ t |
| Onion, small, finely chopped | ½ small onion |
| Egg | 1 small |
| Sweet Chilli Sauce or Tomato sauce | 1 T |
| Fresh herbs - parsley, basil (optional) | 1 T chopped |
| Salt and pepper | To taste |
Method
In a small bowl mix together all of the above ingredients. If the mixture is too wet and sloppy to be shaped into balls, add a little more oats.
Take a golf ball sized spoonful of the mixture and shape into a ball using the palms of your hands. Place the ball on a round dinner plate.
Repeat with the rest of the mixture (makes around 8 balls). Place all the balls in a circle on the outer edge of the dinner plate. They should not be touching.
Microwave the balls on the plate on HIGH for 3 – 4 minutes until almost cooked through.
Place the balls in a pre-heated heated, oiled fry pan and cook over medium heat for a few minutes until browned on the outside and cooked through the middle. You will need to turn them often to brown the sides.
Serving Suggestion: Serve the meatballs with pasta, pasta sauce and a salad.
Variations:
Alternatively you can bake the raw meatballs in the oven on a greased baking tray at 180ºC for approximately 20 minutes or until cooked through the middle.
Make a double batch and freeze the extras to have later when you don't feel like cooking. Can be frozen from raw or cooked.
Serve as a snack or party food with a dipping sauce
Meat sticks: Mould a small handful of the mixture around kebab sticks. Follow the cooking instructions as per the recipe.
Patties: Shape the mince mixture into 2 large patties instead of balls. Pan fry until cooked through the middle and serve in a bun with salad fillings.
Meatloaf: Add a ½ of a grated carrot to the mince mixture and press it into muffin tins to make mini meatloaves. Spread a thin layer of tomato sauce over the top and bake at 180ºC for approximately 20 minutes or until cooked through the middle.