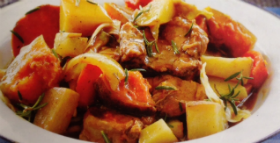 This modern take on the traditional hangi is easy to prepare and will fill your house with wonderful aromas.

Ingredients
Ingredients

2 Serves

Small onion, cut into wedges

1

Lamb or beef steak, diced

400 g

Oil (optional)

1 t

Carrot, cut into large chunks

1

Potato, cut into chunks

2

Small kumara, cut into 6 pieces

1

Small cabbage, cut into 4 pieces

¼

Water

1 cup

Gravy mixture packet

1

Mustard (hot English or French mustard)

½ t

Dried rosemary

1 t

(or 1-2 sprigs fresh rosemary)
Method
If you wish, brown the onion and meat in a fry pan with oil; the meat should not cook through.
Remove from heat.
Place carrot and onion in bottom of slow cooker or crock pot. Then layer meat, potato, kumara, and cabbage on top.
Pour 1/2 cup water over.
Cook for 3 hours on high, or 6 hours on low, until vegetables are cooked (If using a crock pot in an oven, high= 140°C on 'bake' and low = 80°C on 'bake').
40 minutes before serving time:
Mix gravy with ½ cup boiling water.
Stir mustard and rosemary into the gravy mixture.
Remove some of the vegetables from the slow cooker or crock pot and set aside. Stir gravy mixture into the liquid in the slow cooker.
Return vegetables to the slow cooker or crock pot and cook for 30 more minutes.
When cooking is completed, turn off heat. Season with rosemary and pepper and serve.
Recipe thanks to Bronwen King, Registered Nutritionist