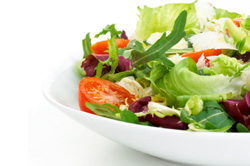 Lots if different ingredients can be added to a green salad but sometimes the simplest green salads are the best!

Green Salad
Choose lettuce and at least three of the following ingredients:
- spring onion, chopped
- celery, chopped
- radish, chopped
- tomato, sliced
- cucumber, sliced
- red, green or yellow pepper, sliced
- bean sprouts
- gherkin, sliced
- carrot, grated
- parsley or chives, chopped
Method
1. Wash torn lettuce and other chosen ingredients well. Shake off excess water and place in a bowl.
2. Mix together and chill slightly before serving.
3. Either mix with dressing immediately before serving, or serve the dressing separately.
Use a pre-made dressing from the supermarket. Alternatively use the recipe below to make your own dressing.
French Dressing
- ½ to ¾ cup olive or salad oil
- ¼ cup vinegar
- 1 t prepared mustard
- ¼ t paprika
- 1 t clear honey or sugar
- salt and pepper
Method
Put all the ingredients in a screw-topped jar, adding salt and pepper to taste.
Shake well before serving.
Store unused dressing in the refrigerator.
Recipe from Easy Recipes for One or Two