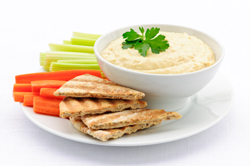 This nutritious dip is quick and easy to make and is packed full of protein, fibre and flavour!

Hummus
1 x 420 g can chickpeas
Juice of 1-2 lemons
2 T Tahini* or olive oil
2 t minced garlic
1 T chilli sauce
Salt and ground pepper to season
*Tahini is a sesame seed paste and is available from some supermarkets and Asian groceries.
Method
Place all ingredients together in food processor. Blend well. Add salt and group pepper to taste. Spoon into a serving bowl.
Pita Crisps
Pita bread or tortillas
Garlic salt or chicken stock
Cooking spray
Method
Cut tortillas and pita bread into bite sized pieces and separate pita bread at the fold. Place on an oven proof tray.
Lightly spray with cooking oil and sprinkle with garlic salt or chicken stock.
Grill in oven until golden and crispy. Allow to cool and store in an airtight container.
Serving Suggestion: sprinkle hummus with chopped fresh parsley and serve with pita crisps and raw vegetable sticks, eg. carrot, celery, red pepper.