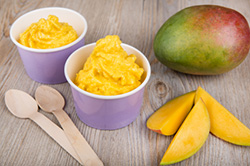 Sweet, creamy and fruity.
Gelato is an ideal finish to any meal.
| | |
| --- | --- |
| Ingredients | 4 Serves |
| Mango | 1 x fresh or 2 x 425g cans |
| Banana | 2-3 large (medium ripe) |
| Vanilla yoghurt | ½ cup |
Method
Remove skin from mango and banana. Cut into chunks. If using canned mango, drain the liquid.
Place fruit on a plate – cover with plastic wrap, or put in an air tight container. Freeze for a minimum of four hours or overnight.
Place frozen fruit and yoghurt into a food processor and blend on high until lumps start disappearing. Stop the blender from time to time and scrape down the sides of the container with a spatula. Also, move the lumps around closer to the blade to get a consistent mixture.
Repeat step 3 until you have an evenly blended smooth mixture.
Serve in a bowl.
Serving Suggestion: serve with fresh or defrosted raspberries, or scoop into ice-cream cones. If not serving straight away, return to an airtight container and freeze. Allow to soften at room temperature for 5 minutes before serving.
Variation: mango can be replaced with other fruit e.g. berries, apricot, peach, plum, feijoa, kiwifruit etc.