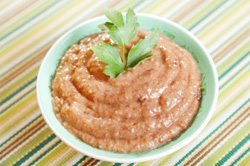 This spread can be made from any canned beans but red kideny beans give a nice colour. If you don't want it spicy leave out the chilli powder.

Ingredients
1 x 415 g can red kidney beans, rinsed and drained
2-3 T sundried tomato pesto or regular pesto (optional)
2 cloves garlic, chopped
2 spring onions, chopped roughly
½ t chilli powder
½ t ground cumin
½ cup fresh parsley
½ cup fresh coriander
Juice of 1 lemon
Salt and pepper to taste
Method
Place all ingredients except one spring onion in a processor or blender and process a few minutes, until smooth.
Season with salt and pepper.
Spoon into a serving dish and top with finely sliced reserved onion.
Serving Suggestion: serve with raw vegetable sticks, (eg. carrot, celery, red pepper) wholegrain crackers and / or pita bread.